Press release from the Utti Jaeger Regiment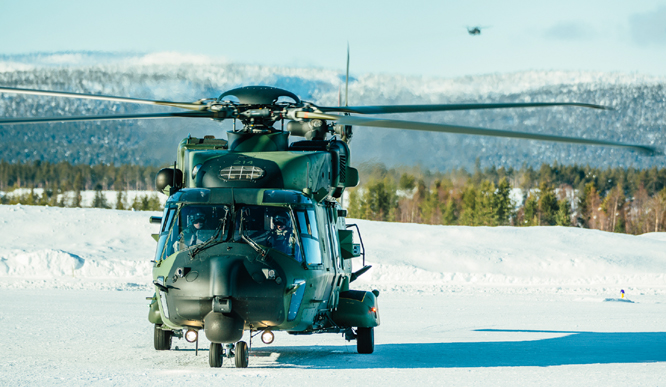 From 24 February 2020 onwards, the Utti Jaeger Regiment organises a multinational winter exercise, the exercise Northern Griffin 20 in Northern Finland. Exercise activity takes place across the area of the Lapland region.
Organised in Northern Finland from 24 February to 22 March 2020, the exercise Northern Griffin 20 of the Utti Jaeger Regiment is a demanding winter exercise as part of which soldiers undertake training and accrue experience in, among others, carrying out reconnaissance and combat tasks as well as sustaining operating capability in the demanding conditions of Northern Finland. The exercise detachments are on the move in the terrain on skis, on foot, by snow vehicles, and by helicopters. The troops use blank training ammunition and bivouac in the field.
The training exercise involves NH90 and MD500 helicopters from Finland as well as UH60 helicopters from Sweden. The helicopter flight crews exercise special flight considerations relating to winter and fell missions as well as develop interoperability with land forces. Flight activity is conducted at all hours.
The exercise Northern Griffin 20 involves Finnish Defence Forces' service personnel, conscripts and reservists as well as international cooperation partners from Sweden, Norway, Poland, Lithuania, the Netherlands, and the UK, altogether circa 740 persons in total. In addition, France and the USA send military observers to the exercise. The number of multinational exercise participants is approximately 170 persons.
Part of the Finnish Defence Forces' approved international training and exercise activity in 2020, the exercise Northern Griffin systematically develops readiness and operating capability as well as improves interoperability and connectivity with multinational partners.
—
Date of publication: 14 Feb 2020
Announcements are published as a service to readers. The sender is responsible for all content.
Announcements for publication can be submitted to kevin@rasmussen.is.